Press
Dermovia created a Facebook page, and appeared on KTLA 5 Morning News on June 5, 2014. Word spread and the mask was featured in numerous on-line and print beauty and popular magazines, such as Allure, People, Seventeen and Huffington Post. In January of 2016, Dermovia launched Lace Your Face in the UK at Fenwick's Bond Street, and at Nordstrom's in the US.

On February 23, 2017, Ellen Degeneres used a Lace Your Face mask on Jimmy Kimmel as part of her comedic routine "preparing" him for hosting the upcoming Oscars. Then a year later the founders went on Shark Tank and pitched their innovation to the sharks and landed a deal with Lori Greiner.
In The Media
Shark Tank Episode
Season 9, Episode 24 on HULU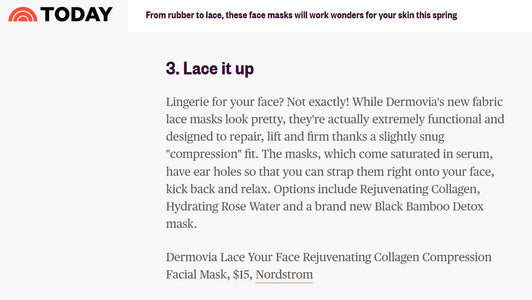 Today
On Instagram at @Dermovia
Also featured in these publications
and television shows
Bustle
Cosmopolitan
Essence
Glamour
PopSugar
People Magazine
Byrdie
Seventeen
Insider Beauty
BuzzFeed Top Knot
Forbes
Huffington Post
Marie Claire
Health Magazine
NBC
KTLA
Today Show
On
"Love this at-home mini facial!"
Sara H. on Aug, 2017
I get facials on a regular basis but after having kids, its been hard to find time. I like how I can stay mobile while I give myself a facial treatment at home with these lace masks. The results are instantly noticeable and I love how soft and hydrated my skin feels for weeks!
"Best Masks I've ever used"
Rebecca Calderas on May 19, 2016
I have tried several of the Dermovia Masks and find each one to have special qualities of their own! My favorite mask is the Rejuvenating Collagen mask! I love it because it tightens and hydrates my skin! Also, as I'm a mature woman, it's perfect for older skin or for ANYONE who has dry skin. We are all looking for quality products that are affordable and with most products, they can only be used once. This mask has extra serum in the pouch so it's made to be used twice! Thank you, thank you for an amazing product that delivers what it says it will do!
"Significantly Calms my Rosacea"
Alyssa on Sep 15, 2016
This Chamomile mask is honestly a life saver. I suffer from rosacea, and the air conditioning at my workplace/normal everyday stress makes my face really red and itchy. Nothing else I've tried, including prescriptions from my dermatologist, made it any better. Finally I found these and they work so well to calm my face down. I keep them in the refrigerator and put them on when my skin is out of whack. I highly recommend them!