Dermovia Skin Cycle
Dermovia Skin Cycle
Dermovia™ introduces Skin Cycle, our professional-grade skincare products that provide REAL results. Each product is carefully formulated so that the naturally derived actives work synergistically within the formulation and effectively on the skin. Our collection of products stimulates, accelerates, and influences the skin's natural cycle of renewal.
We have formulated a high-quality line of skincare offering you age reparative and preventative products that result in brighter, younger-looking, and healthier skin with each use.
Skin Cycle products are exceptional in yielding noticeable results - whatever the issue is. Our system is comprised of solutions for skin conditions based on naturally derived, science backed active ingredients proven to help resolve various skin issues. We've developed an entire regimen of water-based skincare products that are bio-compatible and work better together for faster results. These products provide daily solutions that will grow with you and evolve with the ever-changing needs of your skin.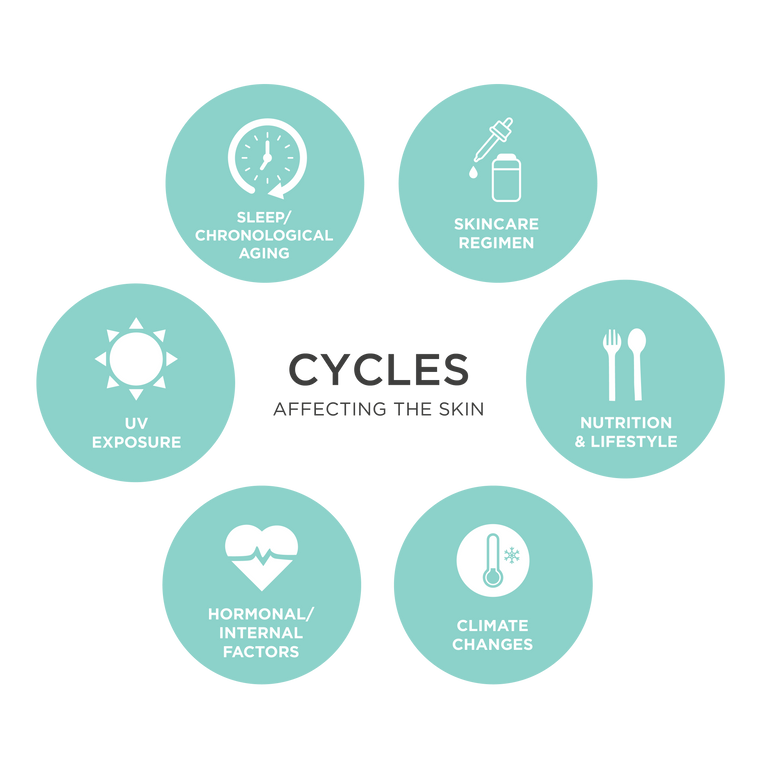 Our skincare philosophy is based on the ever-changing "cycles" of the skin through external and internal factors.
Ideal comfortable environment for the skin is at 50% humidity level.
Climate and seasonal cycles and hormonal aging cycles all affect the skin's state.
We believe that the skin goes through cycles of conditions so each individual's skincare needs varies during different times in their lives. We have formulated our skincare line to assure the most beneficial, advanced, and cutting-edge products made from the best ingredients that nature and science has to offer.
Skin Cycle features eight skincare products formulated to address a variety of skincare concerns, including:
How It Works
Microion technology is a unique encapsulation process that our raw ingredients go through to maximize stability and delivery into the skin. Through this rigorous process, active ingredients are micronized so the molecular size of the ingredients are smaller to penetrate into the deeper layers of the skin.
The Process
Through the encapsulation process, active ingredients are micronized.
Micronized Ingredients
The molecular size of raw ingredients penetrate into the deeper layers of the skin.
Increased Infusion
The delivery and stability of the ingredients is maximized, revealing noticeable results.