New Year, New Complexion: The Resolutions You Need For Your Best Skin Ever In 2021
Posted by Anita Sun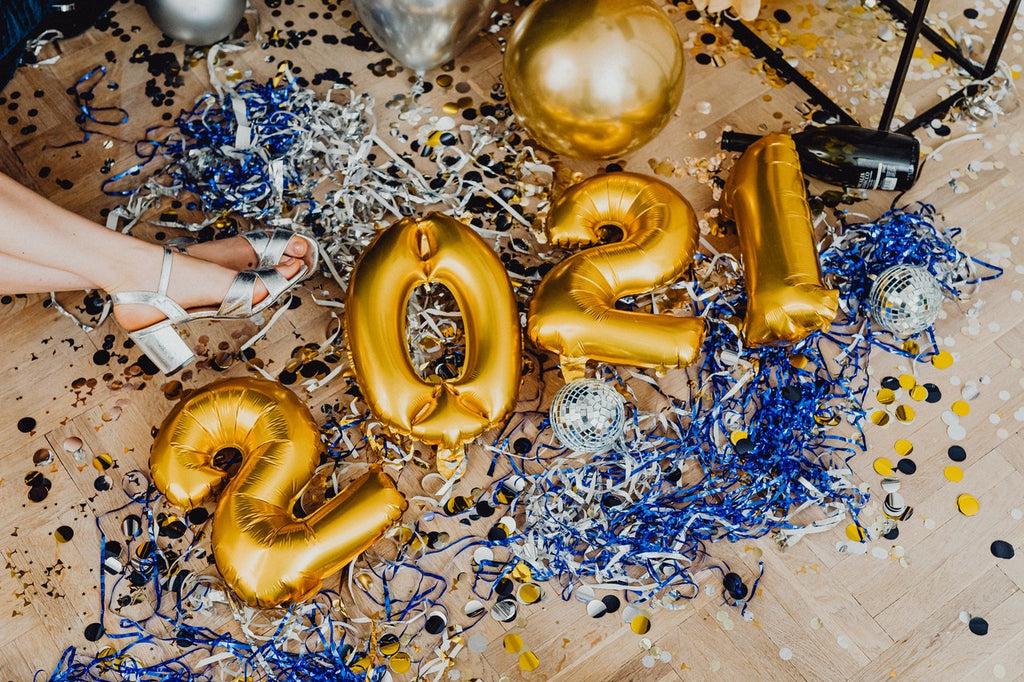 It's official—a new year is upon us. And with every new year comes the opportunity to start a new chapter and incorporate habits that set you up for success in the upcoming 12 months.
And that includes habits for your skin.
So, the question is—what habits do you need to incorporate into your skincare routine to keep your skin looking healthy, youthful, and radiant in 2021?
Let's take a look at the three resolutions you'll want—no, need—to make to get your best complexion ever in the upcoming year:
Resolution #1: Never leave the house without SPF
There are plenty of things you can do to improve your skin in the upcoming year. But if you're only going to make one complexion-related resolution in 2021, make it this: never, ever, EVER leave your house without SPF.
SPF protects your skin from the sun's harmful UVA and UVB rays, which can wreak havoc on your skin, causing everything from dark spots and hyperpigmentation to uneven skin tone, fine lines and wrinkles to loss of elasticity. Sun exposure without adequate protection also increases your risk for adverse health effects, including skin cancer.
Putting on SPF in the AM (and reapplying throughout the day as necessary) only takes a few minutes. But it can stop premature aging in its tracks, prevent sun damage, and lower your risk of skin cancer—so in 2021, make a resolution to make SPF the backbone of your morning skincare routine.
Looking for a powerhouse product that delivers on both sun protection and sheer, natural coverage? With its lightweight texture and sheer, natural tint, the DERMOVIA Skin Cycle Invisible Tint Day Moisturizer SPF 30 evens out the skin tone, delivering the perfect "no makeup" makeup look—and, thanks to its formulation (which includes both Zinc Oxide and Titanium Oxide), also provides the SPF 30 protection you need to protect your skin from the sun.
Resolution #2: Wash your face and take off your makeup every night
We all have those days. Days that feel so long that, by the end of the night, you're so exhausted the thought of walking to the bathroom and washing off your makeup feels akin to running a marathon. And while those days happen to everyone at least once in a while, let's be real—they've been happening a lot more for all of us in 2020.
And we get it. You're tired! But if you want your skin to be it's best in 2021, you need to put in the effort, remove your makeup, and wash your face before your head hits the pillow—no exceptions.
There are a few different reasons why PM cleansing/makeup removing are an absolute must, including:
Clogged pores.

If you don't cleanse your skin and remove your makeup before bed, all that product can clog your pores—and those clogged pores can lead to a host of skin issues, including blackheads, enlarged pores, and breakouts.

Buildup.

Dirt, oil, sweat, and other pollutants can build up on your skin throughout the day—and if you don't cleanse your skin before going to sleep, all those things will stay on your skin throughout the night, which can lead to irritation, dullness, and other complexion issues.

Skincare.

Your skin repairs itself overnight—making it a critical time to give your skin the ingredients it needs to look and feel it's best. But if you're not washing off your makeup before bed, that also means you're not going through a nighttime skincare routine—and you're not getting the complexion boosting benefits that go along with it.
Bottom line? If you want your skin to look and feel it's best in 2021, you need to make washing your face and removing your makeup every night a non-negotiable.
Removing your makeup before bed is a must—but without the right product, removing stubborn eye makeup can push you well past your bedtime. Try the DERMOVIA Skin Cycle Water Zone Eye Makeup Remover, which not only removes all traces of makeup residue around the eyes (including waterproof products!), but is also packed with gentle, soothing ingredients like aloe vera and Eyebright extract, to refresh and soothe the eye area—and with a greaseless finish that will leave your skin feeling fresh and clean when your head hits the pillow.
Resolution #3: Treat yo' self (and your skin)
2020 was a tough year. And so, one of the best resolutions you can make for yourself—and your skin—in 2021? 
Treat yo' self—and your skin.
Incorporating some serious self care into your routines (including your skincare routine!) in 2021 won't make the lingering stressors from 2020 go away—but they can certainly make you feel more relaxed, calm, and centered as you navigate those challenges. 
So, in the upcoming year, making treating yourself—and your skin—a priority. Write self care—whether that's doing an at-home yoga class, taking a long, luxurious bubble bath, or treating your skin to a nourishing, hydrating mask treatment—onto your calendar like you would any other important appointment. And then (and this is the important part!), make sure to keep that appointment with yourself.
Taking the time for self care might feel indulgent. But after the unprecedented stress and challenges we all faced in 2020, we're more than due for some indulgences in the upcoming year—so add "treat yo' self (and your skin)" to your 2021 resolutions list.
Want to indulge your skin in the new year? Treat your skin with DERMOVIA's Lace Your Face Mask Treatments. Lace Your Face uses patented compression technology that enhances absorption, increasing efficacy—and with a variety of formulations, there's a treatment to target all your skincare concerns. And not only do Lace Your Face treatments produce clinical grade results, but they also feel totally indulgent—making them the perfect addition to your 2021 self care routine.