Lace Your Face Clarifying Mulberry Leaf
Lace Your Face Clarifying Mulberry Leaf
In a synergistic blend of ingredients, this exceptional active formulation was created to help rescue and renew the skin to reveal a clear and smooth complexion. This gentle purifying treatment contains Aloe Vera which is known to soothe and control overactive oil glands, flushing out impurities, and neutralize acne-causing bacteria. Mulberry Leaf is known to contain natural antibacterial and anti-inflammatory benefits. Lentil Seed Extract has been shown to tone and tighten enlarged pores and improve the appearance of skin texture. Nourishing Vitamin C is known to help with healing and improving skin tone.
International and Domestic Patent No. US D768,927 S
United States Utility Patent No. 10,182,637
In an independent study on 40 women, ages 18-60; over all results were increases in skin hydration, firmness, smoothness, and suppleness. In addition decreases in the appearance of fine lines and pores. Subject also reported that their skin looked more nourished, plump and bright with improved skin tone.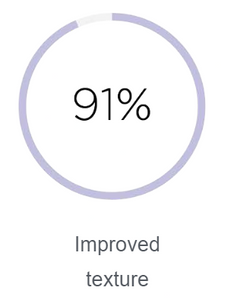 Benefits of Compression
Facial compression helps enhance absorption of our advanced serums. Our patented ear loops and chin strap comfortably secures the mask to your face so you can multitask while you mask!
Biodegradable Stretch Cotton Fabric
Our lace masks are hypoallergenic, eco-friendly and 100% chemical-free
Reusability
Each pouch contains enough serum for a second use
Medical Grade Sterilization
Each mask is subjected to a double Ethylene Oxide sterilization process that keeps it antimicrobrial
How it Works
Our products are focused on using a Layer Delivered System that infuses active ingredients to defined areas of the skin in order to achieve the best results. It consists of materials that push ingredients to penetrate every layer of the skin in three steps: open pores, infuse nutrients and seal to protect.
Water-based Formula
Our formulas are water-based. Water molecules are smaller, which means that ingredients penetrate faster through the skin causing more absorption of active ingredients.
How to Use
Cleanse and dry face. Remove mask and squeeze excess serum into pouch.
Place smooth side of lace onto face.
Line up holes with eyes, nose, and mouth.
Place ear slits securely around ears.
Pull ends of chin strap up and loop over ears.
Wear mask for 15+ minutes. Discard or reuse. Do not rinse face. Massage serum into skin.