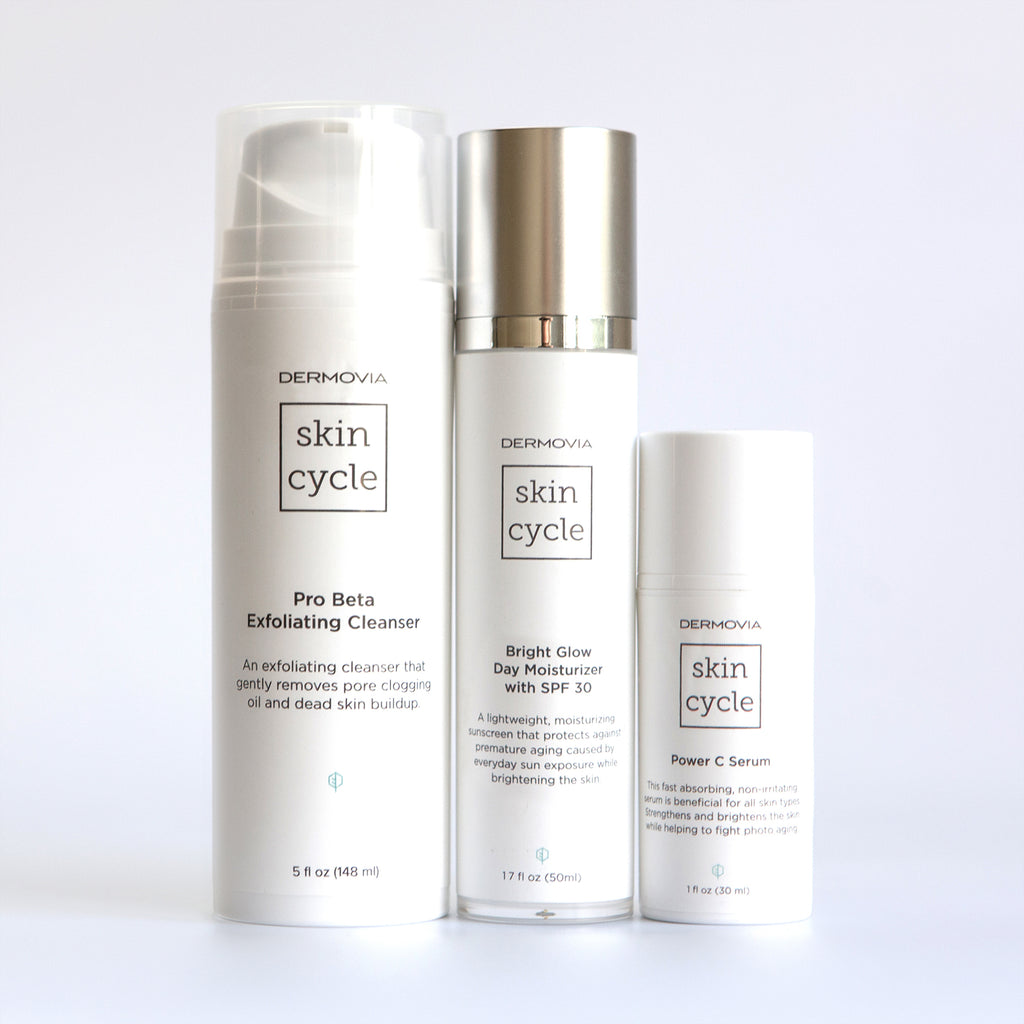 Skin Cycle Clear As Day Set
Skin Cycle Clear As Day Set
The morning is a rushed time for many people—and the last thing you want is a skincare routine that's going to hold you back.
Luckily, you only need to take a few steps each morning to set your skin up for success all day long:
Step 1: Pro Beta Exfoliating Cleanser

Step 2: Power C Serum

Step 3: Bright Glow Day Moisturizer SPF 30
First you need to cleanse your face—and get rid of any pore-clogging residue that could lead to breakouts.
If you have oily or acne-prone skin, you need a cleanser that's going to work overtime to clear the skin of any excess skin or sebum that's clogging pores and driving breakouts—but without stripping the skin of the hydration it needs to look and feel its best.
Pro Beta Exfoliating Cleanser is formulated with salicylic acid to exfoliate the skin, removing any impurities that might lead to breakouts (including excess sebum or dead skin cells)—but, unlike harsher pore-cleaning cleansers, it's also formulated with gentle ingredients (like aloe vera) so that it doesn't damage or dry out your skin in the process.
5 fl oz / 148 ml
When you're prepping for the day, you want to give your skin everything it needs to not only look and feel its best, but to protect itself from any damaging or harmful environmental issues it may face during the day. And the best way to do that? A powerful antioxidant serum.
Antioxidants are extremely powerful ingredients, delivering a one-two punch of protecting your skin and repairing the damage caused by sun exposure and free radicals. Power C Serum is formulated with Vitamin C, which offers a host of anti-aging benefits (including brightening the skin, lightening dark spots, improving elasticity, and repairing sun damage) as well as a potent antioxidant blend to provide protection from free radicals. Plus, if you wake up with less-than-happy skin, the Power C is formulated with Chamomilla Recutita Flower Extract—which can help soothe the skin, fight inflammation, and make sure your complexion is ready for the day.
It's exactly what your skin needs to start the day on the right foot (or, in this case, the right face!).
1 fl oz / 30 ml
It doesn't matter if your skin is dry, oily, combination, or normal—moisturizer needs to be a non-negotiable part of your AM skincare routine. But when you're prepping your complexion in the morning, the last thing you want is a heavy moisturizer that's going to sit on the surface of your skin—which not only feels less than ideal (and runs the risk of clogging your pores), but can also cause issues with makeup application.
Bright Glow Moisturizer SPF 30 is a lightweight, non-comedogenic moisturizer that's the perfect texture for every skin type and formulated with a variety of ingredients (including bearberry and licorice) to give you the perfect glow all day long. Plus, the Bright Glow Moisturizer is formulated with both physical and chemical sunscreens to provide the highest level of protection from harmful UVA and UVB rays—without the heavy feel of other sunscreens.
1.7 fl oz / 50 ml
How to Use
Pro Beta Exfoliating Cleanser: Apply a small amount to water-moistened skin and gently massage. Rinse well with water. May be used twice daily.
Power C Serum: After cleansing, apply a small amount to entire face and neck. Once absorbed, follow with moisturizer and/or sun protection products (SPF). May be used twice daily.
Bright Glow Day Moisturizer SPF 30: After cleansing and serum, apply to entire face and neck areas 15-30 minutes prior to sun exposure. Reapply as needed.