Lace Your Face Total Rejuvenation Kit
Lace Your Face Total Rejuvenation Kit
The Lace Your Face Total Rejuvenation Kit is a four week treatment created to help your skin look its best. One clinical compression mask per week - each can be used twice, contain ingredients that have been known to help with combatting undesirable skin conditions such as: redness & irritation, the appearance of lines & wrinkles, and dehydration. Each mask provides compression and helps ensure the formulas absorb into the skin. Your rejuvenated skin begins here.
Week 1 - Calming Chamomile contains ingredients that have been known to soothe and calm the skin and help normalize the skin by restoring pH balance.

Week 2 - Smoothing Peptides contains ingredients that have been known to help to smooth the appearance of lines and rough texture while providing intense hydration for softer and stronger skin matrix.

Week 3 - Hydrating Rose Water is specifically formulated with ingredients known to replenish and boost hydration to an optimal level, and soften and revive the appearance of dull looking skin. 

Week 4 - Rejuvenation Collagen contains ingredients known to help elasticity in the skin.
International and Domestic Patent No. US D768,927 S
United States Utility Patent No. 10,182,637
In an independent study on 40 women, ages 18-60; over all results were increases in skin hydration, firmness, smoothness, and suppleness. In addition decreases in the appearance of fine lines and pores. Subject also reported that their skin looked more nourished, plump and bright with improved skin tone.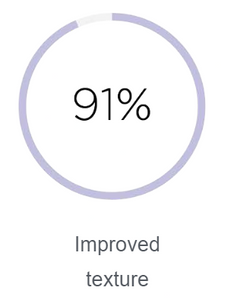 Benefits of Compression
Facial compression helps enhance absorption of our advanced serums. Our patented ear loops and chin strap comfortably secures the mask to your face so you can multitask while you mask!
Biodegradable Stretch Cotton Fabric
Our lace masks are hypoallergenic, eco-friendly and 100% chemical-free
Reusability
Each pouch contains enough serum for a second use
Medical Grade Sterilization
Each mask is subjected to a double Ethylene Oxide sterilization process that keeps it antimicrobrial
How it Works
Our products are focused on using a Layer Delivered System that infuses active ingredients to defined areas of the skin in order to achieve the best results. It consists of materials that push ingredients to penetrate every layer of the skin in three steps: open pores, infuse nutrients and seal to protect.
Water-based Formula
Our formulas are water-based. Water molecules are smaller, which means that ingredients penetrate faster through the skin causing more absorption of active ingredients.